About Us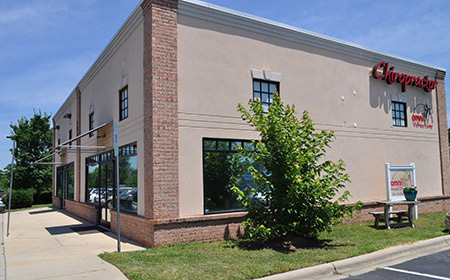 Dr. Tyshia Allen and team support the well-being of you and your loved ones. Our name, "Omni," means all-encompassing. At our Mountain Island practice, which also serves those in Mt Holly, Huntersville, you'll get just that—a wide range of options for your healing. We're also a place where your entire family can get the care they need, making our office inclusive for all ages.
Our 'Why'
We want to change health care. It's our aim to give people options for their bodies to heal without resorting to opioids and other serious or invasive methods. Our staff truly cares for each of our patients.
Though chiropractic has the ability to transform your life, it's actually your body that's doing the healing. We see ourselves as the facilitators of your body's natural abilities. We'll find out what's wrong and determine if chiropractic can help you. If so, we'll provide the care you need while educating you on how to stay healthy. We're here for you no matter what your goals are, loving and serving your unique needs.
We Live To Change Lives for the Better
We are part of the nationwide #GiveBackMovement to help support our local businesses, community and the movement. You're invited to take advantage of our $35 consultation, examination, X-rays (if needed) and report of findings. Know that 100% of this fee will go to the charity we're supporting for the year. We care that the world is better because of us!
Our Core Values
There are several main values that direct us in all we do:
Leadership. It's our duty to lead you on your journey to discovering a greater level of health.
Chiropractic. We remove nerve interference so your body has 100% capacity to heal itself from your pain and other sickness.
Passion. We get excited every time the phone rings because we know it could be a new patient. We think we can never be too busy and always want to see one more person we can share chiropractic with.
Service. We don't settle for mediocrity. Every time you come into the office, we want you to be wowed!
Responsibility. We strive to be the best-run office in the country. Each team member makes sure procedures are completed correctly.
Integrity. We set high standards and stick to them. We're focused on getting you results.
Sharing In Your Success
We truly care about each person that walks through our doors. Our staff members will tear up recounting how someone walked in on a cane, got adjusted and left without needing their cane to leave. Another memorable case is a child who was too pigeon-toed to walk or run. After just a couple of visits, she was running around the office.
Another patient was a man who worked in lawn care that would get tennis elbow or tendonitis. A single visit would leave him in great shape so he could do his job. Numerous pregnant women have come in with breech babies only to have their baby flip into the proper position.
MEET THE DOCTORS »
Take That First Step
Contact Omni Wellness Center today to set up your first appointment at our chiropractic office! We may have same-day visits available.

About Omni Wellness Center | (704) 392-9999